Blogs Blossom Inspirations
• arpillera technique • covidresponse • driveinclusion • handmadewithlove • mask4all • oneofakind • peru scenes • purchasewithpurpose • staysafe • supportartisans • technology • uniquedesign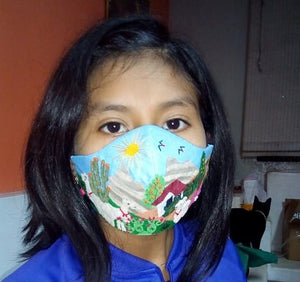 WORKING AGAINST COVID  During this #COVID and in strict quarantine in Perú, we met Alcira through social media, where a great person posted her talent works and her critical situation of poverty to feed their kids.  Alcira is a single mom, native from Ayacucho who migrates to Lima, looking for better conditions and opportunities for their 3 kids. She has to raise them by herself outskirt of Lima and she has been struggling to find a job in this pandemic even though her talent, skills and 10 years of experience in Arpillera technique.  Are you asking yourself what is Arpillera technique? This is a traditional work that has passed over generations, Arpillera means burlap in Spanish, is a brightly colored patchwork picture made predominantly by groups of women (also known as arpilleristas).  Arpilleras are typically constructed from simple and recycled materials such as burlap...
---
• bilingual book • book for kids • chicago fair trade • diversity • empowering women • equality • fair trade book • guinea pig alpaca toy • inclusion • interview chicago fair trade • katherine bissel cordova cft • mexico • peru • preservingart
INTRODUCING CUYITA TO THE WORLD In May 2020, co-founder of Blossom Inspirations, a fair trade company, and now author, Rosa Chang wrote a semi-autobiographical children's book, Cuyita Wants to Know the World. We sit down with Rosa to discuss her 'blossoming' inspiration behind the book, her experiences immigrating to Mexico and then the US, and creating a bilingual home for her family. Scroll down to read CFT Executive Director Katherine Bissell Cordova's interview with Rosa Chang about the inspiration behind her book, her experiences immigrating to Mexico and then the US, and creating a bilingual home for her family. Click on...
---
• alliance • blossom inspirations • designer • innovation • new products • quarantine innovation • rocio del barco
As part of this new process, Blossom Inspirations has been working on new collections for the following months, thanks to a strategic alliance with an excellent designer and best human being, Rocio Del Barco, who, along with our founders, our CEO Rosa Chang in Chicago and our Director Jorge Cam in Peru, they have been working hard to bring more news to our clients around the world.
---
• BIPOC • blacklivesmatter • desigualdad • discrimination • diversity • inclusion • jugamostodos • racism • racismo • timeforchanges
An act of violence doesn't need to happen to me directly, in order to take actions and come to understand that the problem is not singular, but systemic. These are OUR problems. We need to have deeper, honest and transparent conversations. Don't ask me about the weather, ask me about me, ask me about my family, ask me about my hobbies, try to know me.
---
• businesssustainability • carbonfootprint • environmentalism • livingstyle • moore school • oneplanet • peace corps • socialimpactdesign • socialresponsibility • supportsmallbusiness • sustainableliving • sustainablestyle
Remember is to live again. I recently was reviewing my thoughts, my point of view 
about "s
ustainability
"
 before, and this interview from my 
MBA Moore University
 came 
back 
to me again, reminding me all my research, expertise and passion about 
s
ustainability in 2011 and the way that we create the value proposition for Blossom Inspirations.